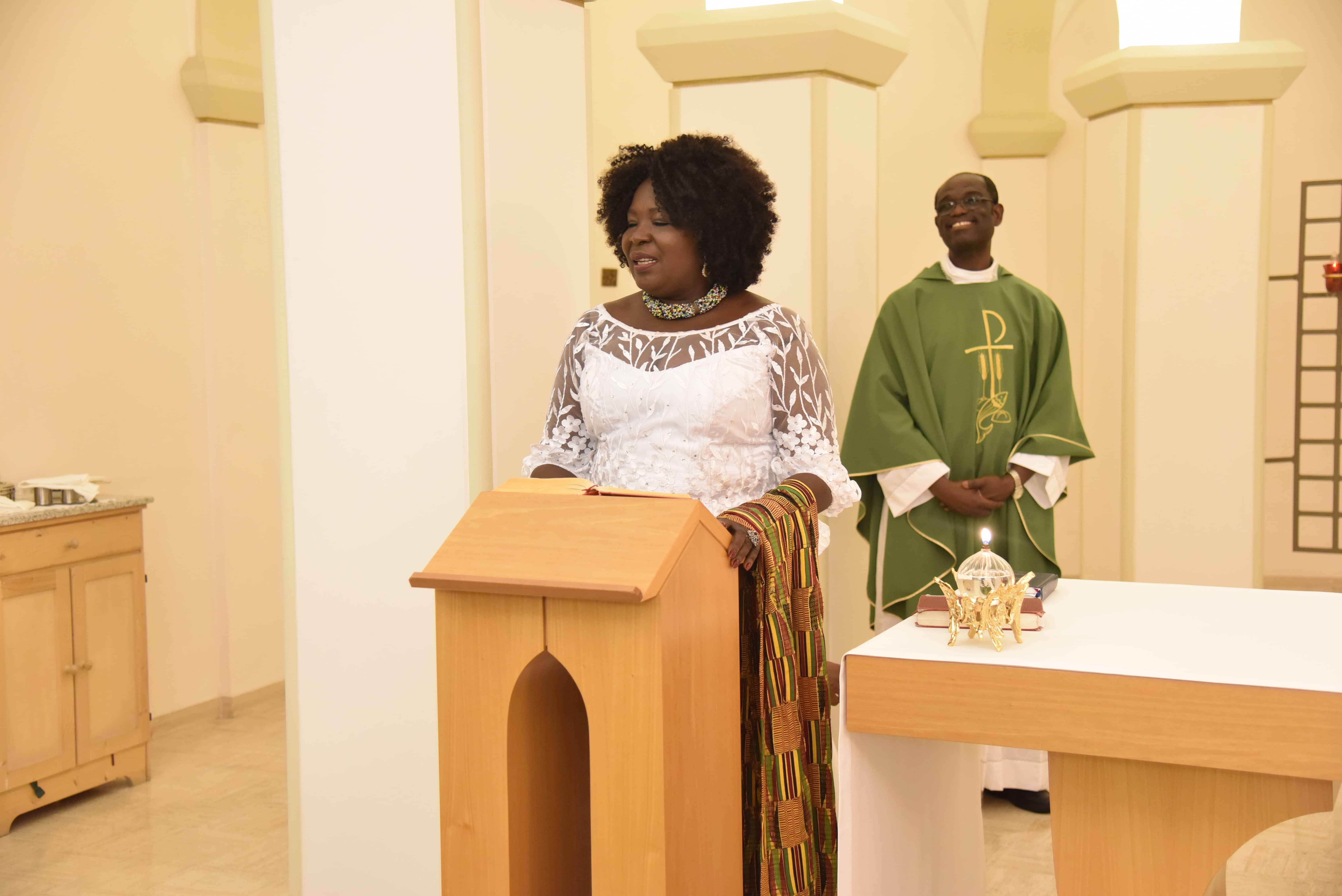 THANKSGIVING SERVICE IN HONOUR OF HER EXCELLENCY, MS. PAULINA PATIENCE ABAYAGE, AMBASSADOR EXTRAORDINARY AND PLENIPOTENTIARY OF THE REPUBLIC OF GHANA TO THE REPUBLIC OF ITALY
Following her presentation of Credentials on Friday 8th September 2017, Her Excellency Ms. Paulina Patience Abayage, Ambassador Extraordinary and Plenipotentiary of the Republic of Ghana to the Republic of Italy on Sunday 10th September 2017 joined the Ghanaian Catholic Community and the Ghana Ecclesiastical Union for a Thanksgiving Service, organized in her honour, at the Society of the Divine Word (SVD) Generalate, at Via dei Verbiti 1 in Rome. The service was conducted by the Chaplain of the Ghanaian Catholics in Rome, Father Joseph Aduse Poku.
In a Welcome Address, Father Aduse Poku stated:
"Your Excellency, Ms. Paulina Patience Abayage, Ambassador Extraordinary and Plenipotentiary of the Republic of Ghana to the Republic of Italy, we welcome you and your guests, some of whom have arrived from Ghana, heartily into our midst.
From the depth of our hearts, we congratulate you for gaining the full trust of the President of the Republic of Ghana and for being appointed to such a high office and service.
We all followed the events of 10th July, 2017, when our dear President, His Excellency, Nana Addo Dankwa Akufo-Addo, presented you with Letters of Credence, with absolute delight. It finally gave us the assurance that soon we would have our new Ambassador after our two lady Ambassadors who finished their terms of office returned to our dear nation Ghana. Today, that hope of ours has been crowned with the joy we have this Sunday morning 10/09/17. How delightful!
To think that only on Friday, 08/09/17, you presented your Credentials and right the following Sunday, you have presented yourself in our midst is the surest sign that what our President gave us his conviction and perfect counsel to you on 10th July, 2017, is right away being effected without delay.
His Excellency the President said among many great counsels: "You are eminently fit to represent Ghana in your respective places of accreditation, which have expressed satisfaction with your appointment"… and then he went on to ask you to maintain a good rapport with the Ghanaian communities to further their prospects of success. In fact, he added… "they will be counting and looking up to you to champion not only Ghana's interest, but theirs as well… Do your best not to disappoint them".
We glorify the Lord with you that immediately after presenting your Credentials the very first thing was to think of the God you serve and who is ever faithful, to come and say THANK YOU to Him and to visit the Ghanaian Community which gathers around His altar in worship.
It is enough sign of the period of blessings that the Lord will design, under your tenure of office, for all of us, and to God's Holy Name be all the Glory!
On behalf of all of us gathered here, I end praying with you St. Paul's Hymn from Eph. 3:20-21… "Glory be to Him, whose power now at work in us can do immeasurably more than we can ask or imagine. Glory be to Him from generation to generation in the Church and in Christ for ever and ever, Amen!"